£17.99
Supplier stock Product is currently available from our supplier and can usually be dispatched within a few days.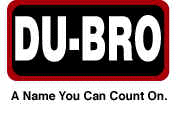 Description
Description
Product Description
For large aircraft .91 and larger, comes complete with high quality aluminum horns, washers, steel 8-32 long shaft, nuts, horn arms, and clevises (for 4-40 rods) with aluminum pivot pins. 2/pkg.
Specification
Reviews (0)
Only logged in customers who have purchased this product may leave a review.