£1.50
Supplier stock Product is currently available from our supplier and can usually be dispatched within a few days.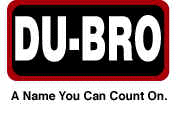 Description
Description
Product Description
Blind Nuts 2-56
Du-Bro's permanent mount blind nuts are available in 7 sizes. Used for mounting engines, landing gear, cowls, hatches, etc. The perfect mounting nut for hard to reach areas. Zinc plated. 4/pkg.
Specification
Reviews (0)
Only logged in customers who have purchased this product may leave a review.