£4.75
Supplier stock Product is currently available from our supplier and can usually be dispatched within a few days.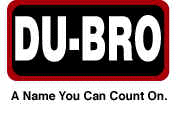 Description
Description
Product Description
A low profile design with a small spring-locking latch suitable for any doors, hatches, panels, etc. The Hatch Latch is secured in place using CA (cyanoacrylate). The unit is approx. 1″ long x 3/8″ wide. Can be painted.1 per pkg. (0.75 grams ea.)
Specification
Reviews (0)
Only logged in customers who have purchased this product may leave a review.