5%

OFF
Supplier stock Product is currently available from our supplier and can usually be dispatched within a few days.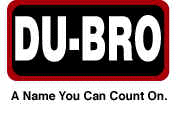 Description
Description
Product Description
Using a highly controlled process, Dubro has devised a way to stabilise the pushrod material so that neither heat nor cold has much effect on trim settings. The 5.5mm outer tube has six internal contact points for smooth and positive action with the hollow neutral colour inner rod. All fittings including 4@ threaded (2-56) rod for the servo end, 1@ studding for the rear plus black finish metal clevises, keepers and locknuts are provided.
Specification
Reviews (0)
Only logged in customers who have purchased this product may leave a review.