£13.99
Supplier stock Product is currently available from our supplier and can usually be dispatched within a few days.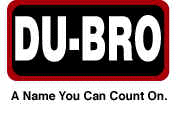 Description
Description
Product Description
A complete mounting system for large aircraft that can be configured as a pull-pull or as two single control horns. Self-adjusting design will mount at 90 to center line of the control surface. This system includes premium socket head bolts which provide a non-slip head while installing horns. The clevis horns include 4-40 heavy duty swivel ball links for "no-slop" precision control. 1 set/pkg.
Specification
Reviews (0)
Only logged in customers who have purchased this product may leave a review.