10%

OFF
Supplier stock Product is currently available from our supplier and can usually be dispatched within a few days.

Description
Description
XFLY J-65 Twin EDF 70MM W/O TX/RX/BATT XF108P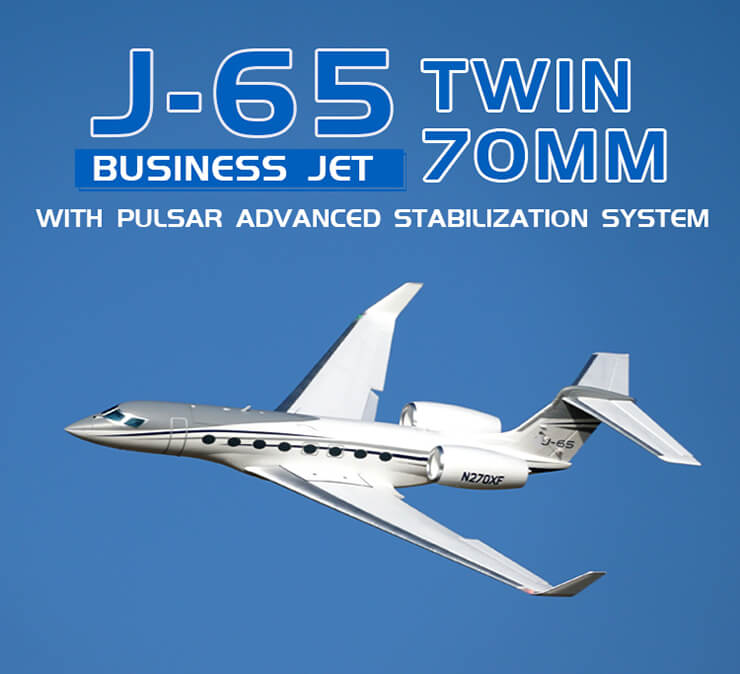 XFly Model is proud to release our first business jet, the J-65 Twin 70mm EDF jet! This jet was developed with all the attention to design and detail that we've come to expect – a scale outline and trim scheme, rivet window frame, full compliment of LED's, removable winglets, scale landing gears and gear doors, removable nacelles, etc. All these scale features make the J-65 jet more like a collection!
The J-65 jet comes fully equipped with all the latest advances in RC aircraft technology such as a 3 axis stabilisation system(exclusive to XFly) with SBUS functionality and fully adjustable gains, removable wings with high quality metal wing connectors, trailing-link main gear and compression strut nose gear. Twin 60A ESC's with 8A BEC deliver silky smooth power via a pair of the now famous Xfly "Galaxy series" 70mm EDF units. This jet has a flying weight of around 4kg (4.4lb) depending on the lipo used (6S 5000-6000 recommended) and is able to deliver a flight time of around 5-8 mins depending on throttle management and lipo used etc. With the newly developed Pulsar stabilisation system installed, J-65 can bring you more stable and enjoyable flights.
As another option, a decal free an all-white version will be offered for customers to select their own custom liveries (stock decal sheet included). Be ready to get thrilled at this gorgeous business jet!
XFLY J-65 Twin Features:
Scale outline and trim scheme, scale features throughout the airframe
Retractable CNC shock-absorbing metal landing gears with scale gear doors
Twin powerful Xfly "Galaxy series" 70mm EDF units and Hobbywing 60A ESCs deliver excellent speed and performance
3 Axis Stabilisation System
Factory-installed 11 bright LED landing and navigation lights, plus operational flaps
Convenient metal connectors used for main wings and horizontal stabilizer
Latch-type top hatch for quick and easy access to the battery compartment
Removable winglets and nacelles
All-white version available allows for custom
Wingspan – 1766mm Length – 1768mm
Motor 2860-KV2200 x 2 ESC 60A w/8A BEC x 2
Servos – 13g x 5, 9g x 3
Recommended battery – 6S 5000-6000mAh
NEED TO COMPLETE
Transmitter
Receiver
Baatery and Charger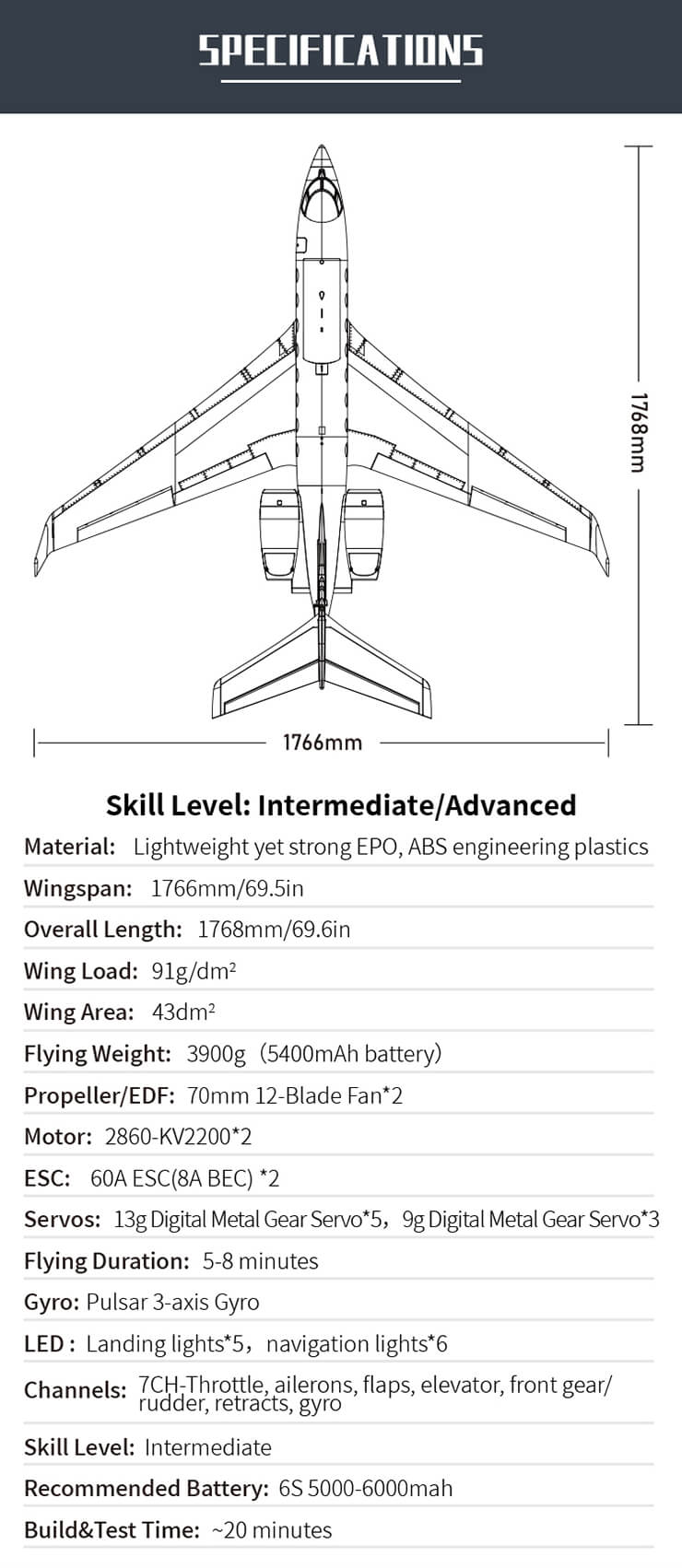 For further information: on flying your RC plane in a safe and responsible manner please check out www.bmfa.org
Specification
Specification
| | |
| --- | --- |
| Aircraft Type | Jet & EDF |
| Assembly | ARTF & PNP |
| Brand | XFLY |
| Power | Electric |
Reviews (0)
Only logged in customers who have purchased this product may leave a review.