£54.99
Supplier stock Product is currently available from our supplier and can usually be dispatched within a few days.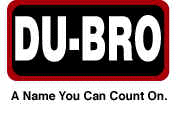 Description
Description
Product Description
7″ Dia. Treaded Lightweight Wheel
700TL Tire Width 2.076 (52.70mm). Our Large Scale Treaded Lightweight Wheels are substantially lighter than other aircraft wheels available. These lightweight wheels feature a foam interior yet have a tough and rugged exterior skin for durability. Excellent for paved runways! Hubs come with 1/4 (6.35mm) axle dia. opening and can be drilled out to 3/8″ (9.54mm). 1/pkg.Weight (approx.): 400 grams / 14oz Per Wheel
Specification
Reviews (0)
Only logged in customers who have purchased this product may leave a review.