£27.99
Supplier stock Product is currently available from our supplier and can usually be dispatched within a few days.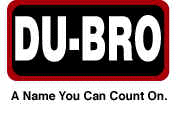 Description
Description
Key Features
Allows higher volume of fuel to enter the carburetor
Comes complete with fuelling probe
Designed to work with 1/8ins and 5/32ins I.D. tubing
Large scale fuel valve featuring press on dust cover to keep dirt out
Suitable for larger engines, 90 and up.
Product Description
No more fiddling with messy fuel tubes in order to fill or drain your tank. Suitable for larger engines, 90 and up. The clean, safe way to fill your tank without disconnecting your fuel line from the carburetor. Perfect for models with enclosed engines. Easy to install. Comes complete with fueling probe. (Silver model is for GLO FUEL ONLY. Red Annodized Model is for GAS ONLY)
Specification
Reviews (0)
Only logged in customers who have purchased this product may leave a review.