5%

OFF
Supplier stock Product is currently available from our supplier and can usually be dispatched within a few days.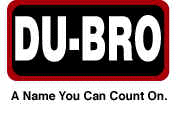 Description
Description
Product Description
When you fuel your aircraft with the Fillin Station from DU-BRO, you willhave everything you need right on board your bottle. The Fillin Station comescomplete with the DU-BRO Kwik-Fill Hand Crank Fuel Pump, Kwik Fill Fuel CapFitting, Leak Proof Cap, Silicone Tubing, Built-In Tool Holders, AnodizedGlo Plug Holders and Glo Caddy. The Fillin Station is a must have for aircraft modelers.
Specification
Reviews (0)
Only logged in customers who have purchased this product may leave a review.