New batch of AMT kits has arrived!
A new batch of AMT model kits has arrived!
---
If your after a retro and slightly qeurky model kit then look no further than the AMT static model range.
The AMT range has some really cool looking retro cars which really do look the nuts!
---
Coming in from as little as £19.54 you could get your hands on a Street Fury Street Slammer!
The Street Fury is a snap togther assembly kit making it the perfect first kit for any modeller of any ability.
---
Or if thats not your style maybe the AMT Chevrolet Camaro Z/28 is one for your collection?
AMT reintroduces the always-popular 1968 Chevy Camaro, but for this exciting reissue, all parts are being included to build EITHER factory stock OR wild street custom versions.
What will yours be stock or modified?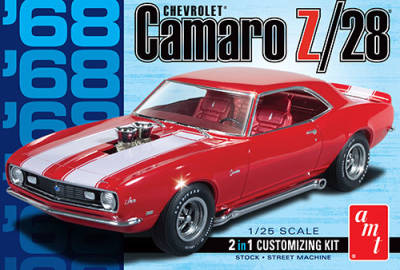 ---
If either of th0se take your fancy maybe a truck will? Thats right AMT even do trucks!
If you fancy a change of pace from cars why not have a go at building the AMT Mack-Cruise liner?
Featuring soft vinyl tyres and is a whopping ten inches long once assembled!
The Mack Cruise-Liner comes in at £45.05
---
We try to keep most, if not all of AMT kit range in but on the off chance we don't have the kit your after don't hesisitate to ask if we can get it.
If we haven't got the kit your after it normally only takes us a couple of days to get your desired kit in, aslong as our supplier has stock.