Axial Yeti 1/10TH 4WD Trophy Truck Kit
Product Description
AXIAL YETI 1/10TH 4WD TROPHY TRUCK KIT
Now in kit form, the Yeti SCORE Trophy Truck is a purposely engineered desert truck with a solid rear axle and independent front suspension. Make no bones about it, this is not a short course truck nor is it designed for the sugar coated and manicured racetracks of R/C. This Trophy Truck is designed for the roughest of conditions and REAL DIRT. We beg for the dirt and rocks to be brought back to off-road! There are reasons why full size Trophy Trucks feature the four link suspension design; durability, capability, and improved forward bite without sacrificing suspension travel. Full-size Trophy Trucks inspired the distinct aesthetic and technical elements of this truck, right down to the solid rear axle. The retro inspired body features design queues from a 1960's era roof-line, classic 1970's wheel arches and glass shapes from the 1980's. Giving this kit an extra bit of modern contrast comes in the form of fluorescent orange Method 105 wheels. This kit version will accept standard 1/10th scale brushed and brushless 4-pole systems and most major stick pack batteries. Precision machined aluminium shocks are standard equipment and deliver smooth suspension movement for consistent handling.
SCORE International, the premier world championship desert racing association, was founded in 1973 by the legendary Mickey Thompson. This race organization is home to the world famous Baja 1000 and Baja 500 events. If you live in Southern California, chances are you have seen the iconic red, white and blue SCORE® decals adorning off road vehicles all over the place. This desert racing series was the early inspiration for short course racing events, as organizers tried to bring desert racing to the masses in confined spaces. That's right, short course off road racing was born in the desert. In true Axial style, we brought you a new R/C vehicle replicating desert racing's top level competition vehicles, the SCORE Trophy Truck. Axial didn't stop there.
---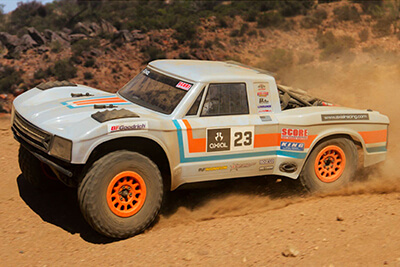 AXIAL YETI 1/10TH 4WD SCORE TROPHY TRUCK KIT
Axial partnered with the top companies actively developing their products through desert racing to take authenticity to the next level. The Axial SCORE Retro Trophy Truck is suspended by a set of aluminium King Shocks rocking the iconic blue shock caps, rod ends, ride height adjusters and springs. King Shocks is a company who has all but dominated the sport through the years providing the latest technology known to man to conquer the harsh terrain of Baja.

AXIAL YETI 1/10TH 4WD TROPHY TRUCK KIT SCALE DETAIL
For added realism, Axial have included a number of scale detail parts: polycarbonate interior tray with moulded driver figures and dashboard, three pairs of white styrene helmets (Sparco™, Moto-X, Skully), moulded exhaust outlets, moulded grill, moulded headlight and taillight buckets, and moulded hood vents.
The Yeti™ Score® Trophy Truck kit includes front and rear light buckets - perfect for mounting two lights per bucket, for a total of eight lights! Lights are not included, but the optional AX24257 Simple LED Controller will get you set up with four lights up front and two in the rear). For the ultimate light setup, try the NVS (AX24251 Night Vision System) which includes a wide variety of lights and a system for controlling them.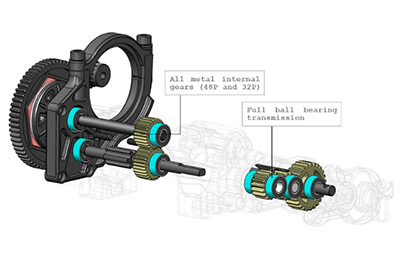 AXIAL YETI 1/10TH 4WD TROPHY TRUCK KIT HI-LO GEARBOX
With all metal internal gears, this full ball bearing transmission has the strength to endure the harshest rock racing environment. The factory gearbox comes as a single speed with the high gear installed for high speed fun. The integrated motor mount features a wide range of movement for endless gearing options. Our dual slipper design uses a pad on each side of the spur gear for added surface area. This allows for more precise tuning and holding power. The spur gear features strong, 32 pitch gearing for high torque applications.
NOTE: optional two-speed transmission component sold separately (AX31181).

AXIAL 2.2 3.0 METHOD WHEELS AND BFGOODRICH BAJA T/A KR2 TIRES
Based off the popular Method 105 machined wheels, these officially licensed wheels are dressed in orange for a fresh style and they're compatible with most 2.2/3.0 short course tires. The hub design allows this wheel to mount to any YETI, Wraith, AX10 or SCX10
In the full-size world of off-road racing, BFGoodrich® tires have proven to be the 'go-to' tire for numerous racing victories, Axial's version of this tire captures the same aggressive look and provides remarkable performance on a wide variety of surfaces. Even in the most difficult off-road terrain this is the perfect tire for this style of vehicle due to its high level of performance and diversity.
---
Axial Yeti 1/10th 4WD Score Trophy Truck Features:
Independent front suspension
AR60 OCP-axle, solid rear axle, 4-linked
WB8 HD Wildboar rear driveshaft
WB8 HD centre cvd joint
Universal front axle set
Aluminium lower link plates
Adjustable aluminium shocks
BFGoodrich Baja T/A KR2 tyres
2.2/3.0 Method wheels
Hi-lo transmission
Integrated long travel rear sway bar
M4 threaded steel turnbuckles
Dual shear steering rack
Protective transmission cover
Dual slipper clutch
4-linked rear suspension
Heavy duty bevel gear set - 38T/13T
Optional gearing included!
Fully adjustable battery tray
Realistic scale details
Receiver box, waterproof
Spec Check:
Length: 23" (583mm)
Width: 12" (305mm)
Height: 8.3" (210mm)
Wheelbase: 14.2" (360mm)
Ground Clearance: 1.7" (43mm)
Weight: 6.65lbs (3kg)
Ref: AX90068
Stock Status:

100000 Units in Stock
Manufactured by: Axial
Stock Levels
Online
In store
Product Reviews
There are currently no reviews for this product. Be the first to Write a review.