AXIAL SMT10 GRAVE DIGGER 1/10TH 4WD RTR MONSTER JAM TRUCK
Product Description
AXIAL SMT10 GRAVE DIGGER 1/10TH 4WD RTR MONSTER JAM TRUCK
Over the past decade, Axial has been synonymous with crawlers and the scale trail community for creating vehicles that inspire endless adventure and creative freedom. Something interesting started to evolve and a trend began to appear, 4WD straight axle Monster Jam® Trucks. What's usually the first thought that comes to mind when someone mentions Monster Jam Grave Digger – who is sitting right up on top! The iconic black, purple, and green graveyard themed paint job has been haunting and thrilling fans for over 30 years.
---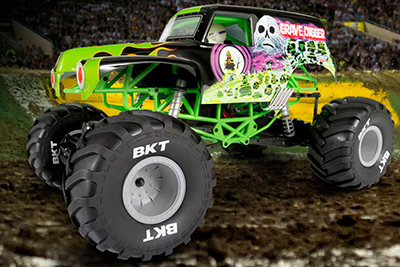 AXIAL SMT10 GRAVE DIGGER 1/10TH 4WD RTR
Axial went all out when designing the chassis and roll cage for the SMT10 Grave Digger Monster Jam Truck. Very similar to modern era full size monster trucks, this chassis was developed for maximum strength and an extremely detailed appearance. Not to mention, it's the first true-to-scale 4WD straight axle Monster Jam Truck available on the market today!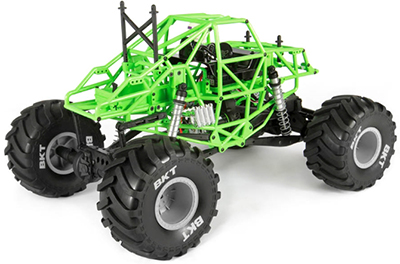 AXIAL SMT10 1/10TH CHASSIS
The design for the Axial SMT10™ Grave Digger Monster Jam® Truck chassis and roll cage are very similar to the modern era full size monster trucks, this chassis was developed for maximum strength and an extremely detailed appearance. The chassis offers many pivot points for suspension tuning. Scale realism and strength are achieved through triangulation of the chassis tubes, making it ready for maximum attack and hard core Monster Truck bashing.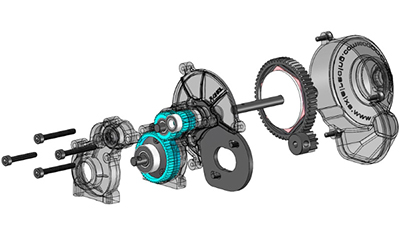 AXIAL SMT10 1/10TH 4WD GEARBOX
The gearbox features an updated Dual Pad slipper system with 32 Pitch gearing, a sealed gear cover and a three gear layout. The New slipper design uses a pad on each side of the spur gear for added surface area, this gives more precise tuning and holding power. Featuring a stronger 32P gearing for high torque applications to get all that torque to the wheels. Included is a 56T Spur / 11T Pinion RTR gearing for 3S and a 16T Pinion for 2S.

AXIAL 2.2 MONSTER TRUCK WHEELS AND BKT MONSTER JAM TIRES
The Axial SMT10™ Grave Digger Monster Jam® Truck comes with 2.2 monster truck wheels moulded from a blend of high quality nylon materials for strength and durability with a solid 12mm hex mount. The are coupled with a special BKT Monster Jam tire which is built to handle the rigors of Monster Jam Truck racing and freestyle competition. The 1/10 scale BKT tire is moulded to provide scale realism and maximum performance for your Axial Monster Jam Truck and includes a Foam insert.
---
Axial SMT10 Features:
Axial 2.4Ghx radio system
27T motor
Ae-5 esc, waterproof
Metal gear tactic servo, 151 oz-in, water resistant
SMT10 tube frame chassis
Heavy duty hydraulic ram style steering links
AR60 OCP-axle
2.2 BKT Monster Jam tyres
2.2 monster truck wheels (Silver)
AX10 transmission
WB8 HD driveshafts
Rear swaybar for added stability
Multiple shock mounting positions
Receiver box, waterproof
Grave Digger replica polycarbonate body
Heavy duty c-hubs
Easy access battery tray
Dual slipper clutch
Spec Check:
Length: 19" (483mm)
Width: 13.2" (335mm)
Height: 10.6" (270mm)
Wheelbase: 13.9" (353mm)
Ground Clearance: 2.9" (74mm)
Weight: 7.11lbs (3.22kg) estimated with electronics
Motor: Axial 27T Electric Motor
Radio: Tactic TTX300 3-CHANNEL SLT RADIO, 2.4gHz
Servos: Tactic TSX45 Servo. Torque: 6.0V 151 oz-in, 4.8V 143 oz-in
ESC: AE-5, forward/reverse, drag brake, 3S LiPo compatible, waterproof
Ref: AX90055
Stock Status:

100000 Units in Stock
Manufactured by: Axial
Stock Levels
Online
In store
Product Reviews
There are currently no reviews for this product. Be the first to Write a review.