AXIAL AX10 DEADBOLT 1/10TH ELECTRIC 4WD - ARTR
Product Description
AXIAL AX10 DEADBOLT 1/10TH ELECTRIC 4WD - ARTR
The Axial AX10 Deadbolt 1/10 Electric 4WD RTR packs all of the speed and versatile crawling capabilities as its original AX10 counterpart and adds a custom body with a moulded driver figure, three interchangeable heads (three styles included: A motocross, open skull–face or motorsport helmet) and officially licensed Maxxis 2.2 Trepador tires giving the vehicle a more aggressive and scale look! Power is provided by a 20T motor and AE-2 ESC that's mounted vertically to help shield it from dust and debris. The AX-3 2.4GHz radio system and AS-3 metal gear servo gives you secure and precise control.
The Deadbolt is packed with trusted features along with a set of high performance Maxxis Trepador tires that allow you to traverse any terrain with ease.
This rock crawler is a highly capable, affordable starting point for anyone. If you are not sure what you want to do and how you want to do it within the various segments of crawling, the AX10 Deadbolt is a highly versatile truck with scale looks, performance driven components and the right amount of speed mixed with technical crawling prowess – all in one rig.
---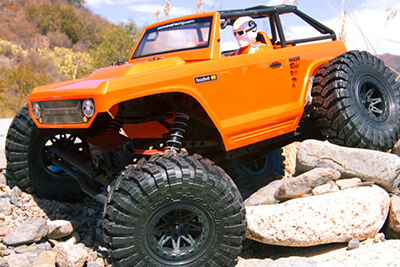 AXIAL AX10 DEADBOLT
While the shaft-driven AX10™ chassis made crawling available to the masses, the market was split into two categories; scale and competition. Axial answered both with the development of the SCX10™ realistic metal c-channel frame which became the de-facto chassis for the scale scene, while the XR10™ answered the call for a motor-on-axle competition rig and claimed the national title. Then, with a close eye on development within the full-size rock racing niche, Axial delivered the Wraith™, further expanding the radio control crawling / rock racing categories.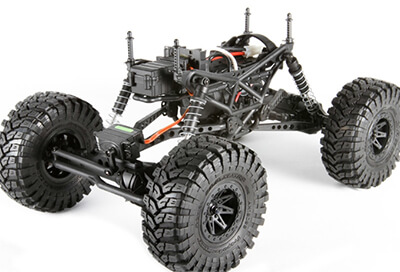 AXIAL AX10 DEADBOLT CHASSIS
Axial has not changed the original scope of the vehicle; the AX10™ is still the "Leatherman" of the Axial product line and it's where backyard fun begins. Axial taken key items from the seasoned product line and put them into the AX10™, along with a tube style chassis that works as an expandable base platform for interchangeable bodies..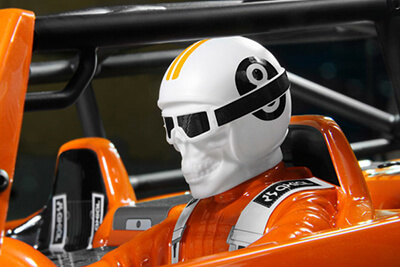 AXIAL AX10 DEADBOLT DRIVER
The Deadbolt™ includes a realistic driver figure complete with a race suit and three interchangeable helmets. A motocross, open skull-face or motorsport version of the helmet are included, choose your own style!.

AXIAL RACELINE RENEGADE WHEELS AND MAXXIS TREPADOR TIRES
Officially licensed Maxxis Trepador tires are mounted and pre-glued to 8-spoke Raceline Renegade wheels right from the factory. The 2.2 Raceline Renegade Wheel features a 12mm hex mount which is reinforced with additional material and ribbing. Finished in all black for an aggressive look. These are taller than our Ripsaw 2.2 tires which gives you more ground clearance, bump absorption and trail ruggedness for smooth, stable performance on your favourite trails..
---
Axial Deadbolt ARTR Features:
Durable, lightweight & rigid tube style chassis
Performance competition shocks featuring threaded shock bodies
Protective electronics box designed to keep receiver away from dust and debris
The AR60 OCP-Axle (off centre pumpkin design) gives you more ground clearance and a better driveshaft angle
Protective transmission cover to keep dirt and debris out of your gears
4-Link suspension, optimized to reduce axle steer
WB8 metal to metal universal joint drive shaft system
AE-2 ESC with drag brake featuring LiPo cutoff
Spec Check:
Length: 448mm
Width: 288 mm
Height: 250 mm
Wheelbase: 310 mm
Ground Clearance: 77 mm
Weight: 4.75lbs (2.15kg)
Ref: AX90033
Stock Status:

1 Units in Stock
Manufactured by: Axial
Stock Levels
Online
In store
Product Reviews
There are currently no reviews for this product. Be the first to Write a review.